BRAZIL
Society


Cities in BRAZIL
Society
State structure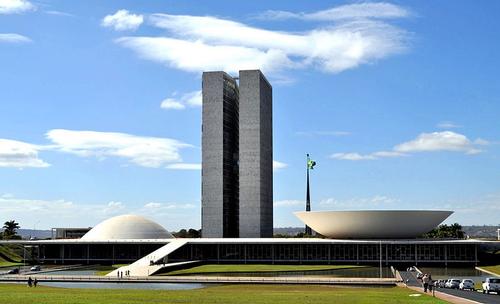 Brazil Congresso NationalPhoto: Thiago Melo CC 2.0 Generic no changes made
Brazil is a presidential federal republic. The president is elected for four years through direct elections, but his powers became more limited in 1988 when a new constitution came into force that replaced the 1969 authoritarian constitution of the military junta and returned many presidential powers to parliament. The president and vice president must be born in Brazil and be at least 35 years old.
Legislative power (Congresso Federal) consists of two chambers: the House of Representatives (Camara dos Deputados) with 513 members elected for four years and the Senate (Senado Federal) with 81 members (three representatives from each of the states and three from the Federal District of Brasilia) who are elected for eight years. After four years there are 1/3 elections, after another four years 2/3 of the members of the Senate. Voting rights exist for all citizens from the age of 16. There is a compulsory vote for everyone from 18 to 70 years old and, moreover, can read and write. Illiterate people, sixteen and seventeen-year-olds and older people over seventy may vote, but are not obliged to do so.
The army still has a fairly large influence and the army command is often consulted by the cabinet. The last military coup is from 1964 and the military dictatorship that followed lasted until 1985.
The Federative Republic of Brazil is divided into 26 states and a federal district surrounding the capital, Brasília. They all have their own legislative, executive and judicial powers. The states are divided into municipalities (municípios) with an elected mayor and city council elected every three years. Each state has its own constitution, parliament (Assembleia) and governor. The territories are directly under the central authority.
The governors and parliaments of the federal states are elected in direct elections. The federal states have great powers in areas such as education, legislation, traffic and transport and housing. In the economic and financial field (e.g. tax collection), the main powers lie with the federal government in Brasília. Foreign policy and defense are of course also regulated by the federal government. The Fernando archipelago is a national territory and, like the Brasília district, has no government of its own.
For the current political situation, see chapter history.
The macro regions North, Northeast, Southeast, South and Central West are distinguished for statistical purposes and for planning reasons.
Name of the state capital
North
Amazonas Manaus
Acre Rio Branco
Pará Belém
Rondônia Porto Velho
Roraima Boa Vista
Amapá Macapa
Northeast
Maranhão São Luiz
Piaui Teresina
Ceará Fortaleza
Rio Grande do Norte Natal
Paraiba João Pessoa
Pernambuco Recife
Alagoas Maceió
Sergipe Aracaju
Bahia Salvador
Southeast
Espírito Santo Vitória
Rio de Janeiro Rio de Janeiro
São Paulo São Paulo
Minas Gerais Belo Horizonte
Central west
Mato Grosso Cuiabá
Mato Grosso do Sul Campo Grande
Goias Goiãna
Tocantins Palmas
South
Paraná Curitiba
Santa Catarina Florianópolis
Rio Grande do Sul Porto Alegre
Education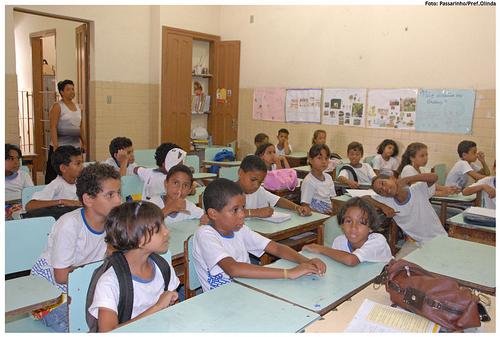 School class BrazilPhoto: Escola Duarte Coelho CC2.0 Generic no changes made
Education is compulsory for children from seven to fourteen years old. Compliance with this obligation is in fact impossible and as a result many children do not go to school. The school year runs from March to December and the language of instruction is of course Portuguese. Primary school is divided into eight classes. In the first four groups, the children learn to read and calculate, among other things. In groups five to eight there will be Portuguese language, physics, mathematics and social subjects. Schools in poor urban neighborhoods and in the countryside provide far fewer subjects.
High school lasts three or four years. There are two directions: general and vocational education. General high school prepares students for higher education. The vocational schools train for certain professions. Approx. 20% of children between 15 and 19 years old attend secondary school. Students are required to take 2,200 teaching hours, but can do so at their own pace. The transition to secondary education is far too expensive for many rural children, as most secondary schools are located in the cities. The gap between free public state schools and private schools is also large. State schools also often work with outdated teaching materials, poor school buildings and underpaid teachers.
The first major university was founded in 1934, the Universidade de São Paulo. Other major universities include the Universidade Federal do Rio de Janeiro, the Universidade Federal Fluminense, also from Rio de Janeiro, and the Universidade Federal Minas Gerais. Higher education is provided at 73 universities and many hundreds of colleges and other higher education institutions. Entrance exams are compulsory and very demanding, and many students are therefore preparing for exams in private schools. Moreover, studying at a college or university is only reserved for young people from wealthy backgrounds.
Approx. 15% of the population over the age of fifteen is illiterate. This is the official figure of the government. Educational institutions suspect that the actual number of illiterates is much higher, especially in rural areas and in the slums of large cities. Five-month courses are offered through widely developed adult education programs, enabling millions of adults to read and write.
Street children and favelas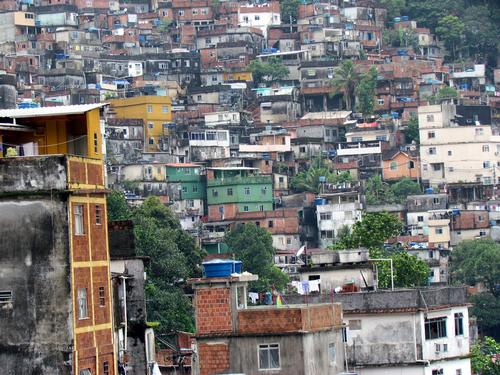 Brazil FavelaPhoto: David Berkowitz (CC BY 2.0) no changes made
The estimated 200,000 to 300,000 street children prove that everyone is not doing well in Brazil. Nobody knows how many there are, probably much more. Often they have run away from home or have been abandoned (abandonados) by their parents. Brazil is one of the countries with the highest percentage of street children in the world. They are generally completely left to their own devices and many are addicted or working in prostitution. In recent decades, they have been hunted themselves by death squads, which even include police officers. The street children sometimes earn some money with trade or they just steal it. Criminal "street gangs" are also increasingly common.
The largest numbers of street children are found in large cities such as Rio de Janeiro, São Paulo and Belo Horizonte in the southeast. But the large cities in the north-northeast are also increasingly confronted with this phenomenon.
Rio de Janeiro is "famous" for its "favelas", the poor areas or slums with all self-built, often illegal houses that are built against the rock slopes. It is believed that there are about 400 favelas, mainly in the north of Rio de Janeiro, in which a total of 1.5 million people can live. Some favelas are equipped with all basic facilities, in others poverty is trump and people live in miserable conditions. In some districts, stone houses are already being built.
The largest favela is Rocinha, with an estimated 150,000 inhabitants. This favela has fairly good facilities and many residents work in the wealthier southern neighborhoods. The district Caxias is a big contrast, especially the favela Lixeao. This favela is built on a landfill and most people live by separating the dirt. The houses, actually more huts, are made of cardboard, plastic and waste wood and the facilities are minimal. It will come as no surprise that criminals and drug mafia are in charge here. Favelas can also be found in other large cities and it is harrowing to see if the chic neighborhoods are located just along the slums.
It is remarkable that excursions to favelas are already offered and that poverty and misery are exploited as a tourist attraction.
Carnival and Copacabana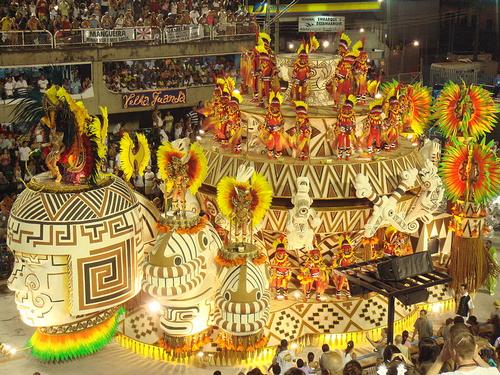 Brazil Carnaval Rio de JaneiroPhoto: Sergio Luiz CC 2.0 Generic no changes made
Carnival is the big, five-day celebration that is practiced exuberantly by almost all Brazilians. Real carnival cities are Olinda, Salvador, Recife, but especially Rio de Janeiro where the carnival of the "carioca", the inhabitants of Rio, is the biggest tourist attraction of Brazil. The Rio de Janeiro grand parade is held twice, usually on Sunday and Monday. The carnival starts on the street on Friday before that.
The performances of the fourteen big samba schools in the big parade and in the stadium "sambódromo" are a fascinating sight. Thousands of dancers and drummers (samba do enredo) participate in the largest samba schools. The preparations last all year round. First you choose a theme and then the costumes are designed and the floats are built. Themes can include biblical stories, historical events, mythology or literature. The groups are judged by a jury, making it a real competition. It is a pity that commerce, prestige and power undermine the spontaneous character of the carnival. However, the average tourist will not notice this and will especially enjoy this folk festival. The first parade with a samba school was already held in 1929.
The smaller samba schools show their skills in the street carnival on Avenida Rio Branco. The carnival is also celebrated in the big clubs of Rio de Janeiro, where the elite celebrate their parties.
The Carnival in Rio de Janeiro, in particular, is also notorious for its crime and the deaths and injuries that occur every year.
What the samba schools are for Rio de Janeiro are the "afoxé's" for the city of Salvador. These groups are also preparing for the big parade for a year with their drums and large images of patron saints. The most famous afoxé is "Filhos de Ghandi". Characteristic of these parades are also the "trios eléctricos", music bands that travel through the streets on wagons. The carnival in cities like Salvador and Recife is much more characterized by the non-stop street carnival.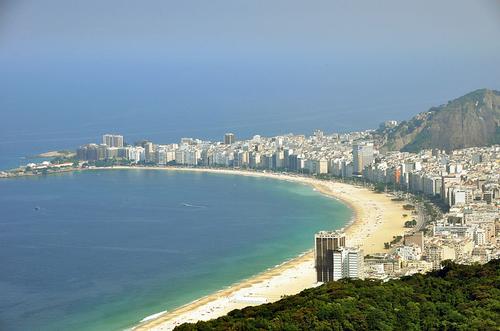 Brazil CopacabanaPhoto: Chensiyuan CC 4.0 International no changes made
Copacabana is named after a shrine on Lake Titicaca and has now become an entire urban district instead of just a beach. Avenida Atlântica (approx. 5 km) runs along the beaches and can easily withstand comparison with resorts such as Nice and Monaco. It started in 1923 with the construction of the Copacabana Palace Hotel and since 1969 the gigantic hotel complexes have provided an impressive sight.
The walkways are jogged and cycled; after that follows a stretch of beach where there is a lot of sports, in particular beach football, beach volleyball; then the real beach life begins.
Other famous beaches are those of Ipanema and Leblon, which are near Copacabana, home to art galleries, theaters, clubs, discos and top restaurants. The longest beach is the 11 kilometer long Barra da Tijuca.
Football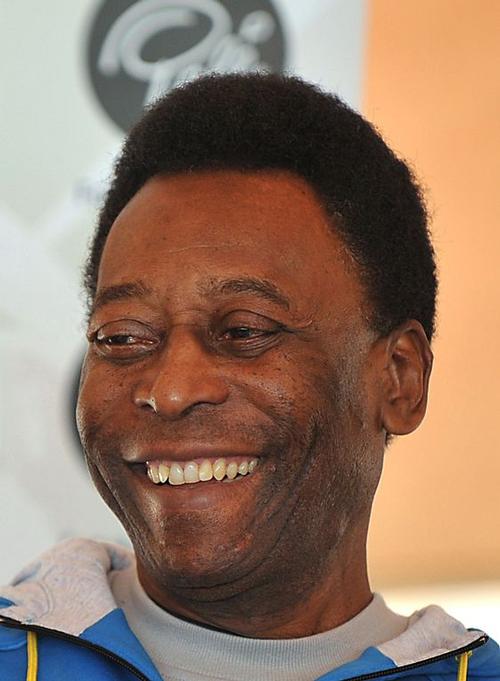 Brazil PelePhoto: Marcello Casal Jr./ABr CC 3.0 Brazil no changes made
Brazil's national sport is football, and the sport also has an important social function. Football is popular in all walks of life and as such an important binding agent.
Brazil became world champion for the fourth time in 1994 after the final rounds of 1958, 1962 and 1970. The most famous footballer in the world is of course a Brazilian, Edson Arantes do Nascimento, better known as Pelé. Other great Brazilian footballers are or were Garrincha, Zico, Sócrates, Romário and Ronaldo. Famous clubs are Flamengo, Fluminense, Santos, Gremio, Atletico Mineiro, Corinthians and Palmeiras. The Football World Cup is held in Brazil in 2014, the team reached the final but was bitterly defeated by the Germans.
Other important sports are volleyball and beach volley. Brazil became Olympic champion in Barcelona in 1992. Individual sports heroes are mainly found in motorsport with names such as Emerson Fittipaldi, Nelson Piquet and Ayrton Senna. Another sport and popular pastime is capoeira, a Brazilian martial art with West African influences, consisting of a combination of dance, music and kickboxing.
---
Sources
Bayer, M. / Brazilië
Gottmer/Becht
Bayer, M. / Brazilië : mensen, politiek, economie, cultuur
Koninklijk Instituut voor de Tropen/Novib
Bender, E. / Brazil
Chelsea House Publishers
Brazil
Apa Publications
Brazil
Lonely Planet
Brazilië
The Reader's Digest
Dekker, J. / Reishandboek Brazilië
Elmar
Heinrichs, A. / Brazil
Children's Press

CIA - World Factbook

BBC - Country Profiles
Last updated May 2023
Copyright: Team
The World of Info