UMBRIA
Society


Popular destinations ITALY
Society
State structure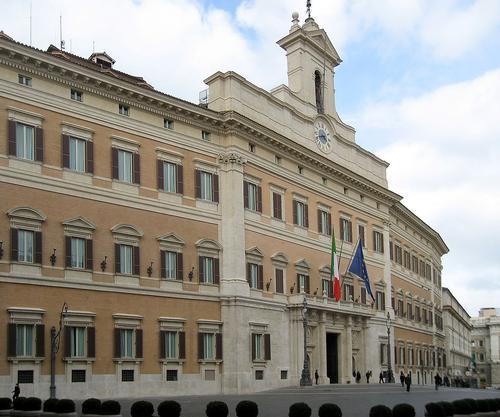 Italy's Parliament is located in the Palazzo MontecitorioPhoto: Manfred Heyde CC 3.0 Unported no changes made
The Italian Parliament consists of a Chamber of Deputies (Camera dei Deputati) with 630 members and a Senate (Senato) with 315 members. In theory, Italians can go to the polls every five years to elect the representatives of the parliament and of the regional councils. In practice, early elections often take place in Italy.
The president has a seven-year term and is elected by a joint session of the two houses supplemented by three representatives from each regional council. The president has the right to dissolve the parliament and appoint the prime ministers. After his term of office, he automatically becomes a member of the Senate for life. The President of the Senate is a deputy to the President.
Cabinets last only about 11 months on average after World War II. For more about the political situation see the chapter about History.
Administrative division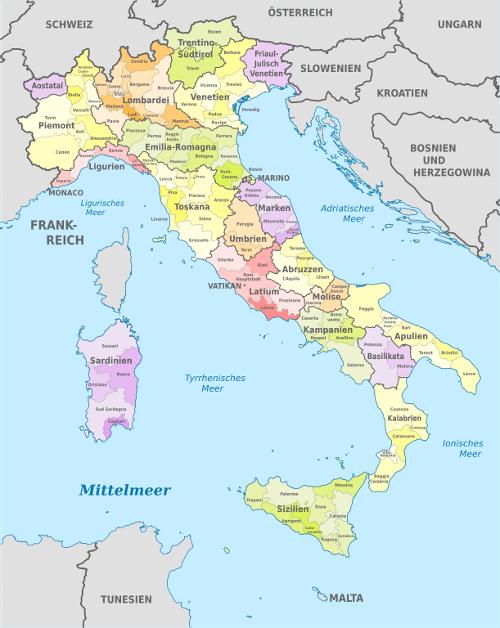 Regioni ItalyPhoto: TUBS CC 3.0 Unported no changes made
There are 20 regioni (regions), which are subdivided into 95 provinces and 8091 municipalities (comuni). These administrative units are governed by councils, which are elected every five years, and an executive body. The executive body is accountable to the board.
Five regions (Sicily, Sardinia, Aosta Valley, Trentino-Alto Adige and Friuli-Venezia Giulia) have a certain degree of autonomy (regioni a statuto Speciale), due to the fact that they are either islands or they border other countries .
The largest region is Sicily, the smallest Aosta Valley.
Below is an overview of the 20 regions with their respective capital:
Abruzzo L'Aquila
Basilicata Potenza
Calabria Catanzaro
Campania Naples
Emilia-Romagna Bologna
Friuli-Venezia Giulia Trieste
Lazio Rome
Liguria Genoa
Lombardy Milan
Le Marche Ancona
Molise Campobasso
Piedmont Turin
Puglia Bari
Sardinia Cagliari
Sicily Palermo
Trentino-Alto Adige Trento
Tuscany Florence
Umbria Perugia
Aosta Valley Aosta
Veneto Venice
Education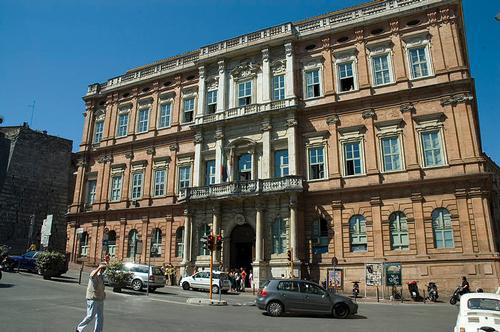 Italy Perugia UniversityPhoto: Francesco Gasparetti CC 2.0 Generic no changes made
Pre-school education for 3 to 5 year olds is not compulsory. Education in public and private schools is generally paid for by the state. The public institutions are all state-owned.
In Italy, compulsory schooling is between ages six and fourteen and includes five years of primary education (scuola elementare) and three years of lower secondary education (scuola media). The government has made a proposal to increase compulsory education to ten years, from five to fifteen years.
Primary education is aimed at children aged six to eleven and consists of two cycles, one of two years and one of three years. The students automatically transfer from the first to the second cycle.
After five years of primary education, pupils take the exams for the diploma that gives access to lower secondary education.
Secondary education is for pupils aged eleven to fourteen and consists of three classes that form a complete study cycle.
Higher secondary education is open to young people aged 14 to 19. Compulsory education follows cycles of three, four or five years, after which one can continue studying at university or continue with a higher education or after which one can start working.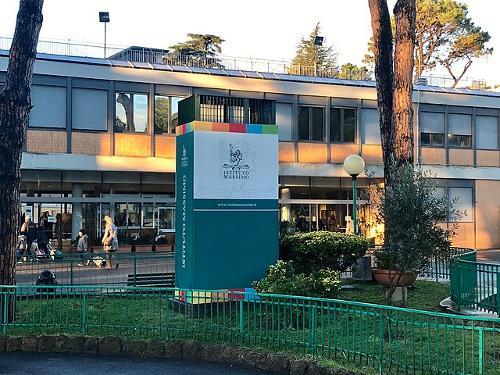 The Entrance to Liceo Massimo Classico e Scientifico InternazionaliPhoto: PaoloGeno CC 3.0 Unported no changes made
All schools after compulsory education fall under upper secondary education and can be divided into the following categories:
Classical and scientific courses (scuole di tipo classico): the "liceo classico" and the "liceo scientifico" prepare students for university and other forms of higher education.
Art courses: the "liceo artistico" and the "istituti d'arte", courses lasting respectively four and three years.
Technical training: there are different types of "istituti tecnici": agriculture, trade, business administration and foreign languages, tourism, surveying, industry, foreign trade, shipping; these courses last five years.
Vocational training: five years divided into a three-year qualification cycle and a two-year follow-up cycle, at the end of which one can transfer to higher education.
Higher university education is provided at public and private universities, technical colleges and other university institutions. University higher education comprises three cycles, which are respectively:
A "diploma universitario" after two or three years of study
A "diploma di laurea", after four or six years of study
A "diploma di specializzazione" after at least two years and a doctorate ("diploma di dottorato di ricerca") after at least three years.
There are three academic degrees in Italy, namely the "diploma", the "laurea" and the "dottorato di ricerca". The last two academic degrees entitle to the title of Dr. ("Dottore").
University education is provided exclusively in Italian. Non-university higher education can be followed by different types of higher education; this applies especially to art education, such as academies and conservatories.
In 1995-1996, there were 47 general universities, two universities of Italian studies for foreigners and three specialized universities (commerce; education; Catholicism); three polytechnic universities; seven specialized university institutes for architecture, bio-medicine, modern languages, marine studies, oriental studies, social issues and teacher training. The oldest university in Italy, and even in all of Europe, is that of Bologna (c. 1200). In the 13th century, universities were also founded in Genoa, Macerata, Naples, Padua and Perugia.
Economy
Agriculture
Umbria had 884,640 inhabitants on 1 January 2018 and is relatively sparsely populated. The population density is about 95 inhabitants per square kilometre, making Umbria fifteenth among the twenty Italian regions.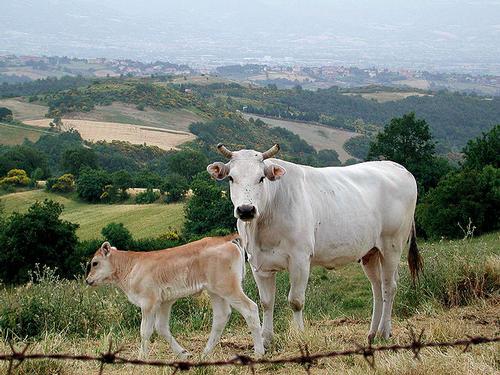 Chianina cow and calfPhoto: Monica from Aghiari (AR) Italy CC 2.0 Unported no changes made
In the forests on the slopes of Monte Subasio and in the hills around the towns of Norcia, Spoleto and Trevi grow the famous truffles (Italian: tartufi) of Umbria. There are seven types of truffles in Umbria, five black and two white. The white Tuber Magnatum Pico costs between two and six thousand euro per kilo, the black Tuber Melanosporum is much less expensive and costs 'only' between four hundred and six hundred euro per kilo.
Il sedano nero' is a rare 'black' celery variety, in fact a dark green variant of celery that only occurs in the vicinity of the city of Trevi.
Wine
Umbria has been a good home for wine-growing for thousands of years and this is mainly due to the following factors: the gently rolling hills with good exposure to the sun, the wealth of rivers and waters, the continental but mild climate, the soil structure which is mostly good clayey limestone. All these favourable conditions encouraged the inhabitants of the area to start producing wine early on, so that today Umbrian winegrowers can boast an old tradition of wine making. For quality red wine, especially the Sangiovese and Sagrantino grapes are important, while white wine, such as the very famous Orvieto Classico DOC, is mainly made from Grechetto and Malvasia grapes.
Crafts
There are many high-quality products for sale in Umbria, such as leather goods, especially bags and shoes. Other products are jewellery, fashion items and fabrics, pottery, products made of marble, alabaster and crystal.
Terni is an important industrial centre with a lot of iron and chemical industry. A number of hydropower plants make up the largest hydropower system in Italy.
Umbria attracts more than 2 million tourists annually (in 2017 2,125,693).
---
Sources
BBC - Country Profiles

Beliën, Herman / Toscane, Umbrië en De Marken
Uitgeverij J.H. Gottmer/H.J.W. Becht BV

Bisschops, Mike / Droomreis door Toscane & Umbrië : Italië
Travelscript Vof

CIA - World Factbook

Elmar Landeninformatie

Francesio, Giovanni / Umbrië
Uitgeverij Unieboek/Het Spectrum bv

Freeman, G.P. / Umbrië : in de voetsporen van Franciscus
Valkhof Pers

Leeuwen, Geert van / Umbrië
Uitgeverij ANWB

Reichardt, Julia / Ontdek Umbrië
ANWB

Umbrië
ANWB

Zwaans, Dorette / Umbrië : in geuren en kleuren
Edicola Publishing b.v.


Last updated November 2023
Copyright: Team
The World of Info