SINT MAARTEN
Geography and Landscape

Basic information
Official language
Dutch
Capital
Philipsburg
Area
34 km²
Population
39,818 (2021)
Currency
guilder (ANG)
Web
.sx
Code.
SXM
Tel.
+599

Geography and Landscape
Geography
Sint Maarten is an island in the Caribbean Sea, named after Sint Martin (Martin of Tours). It is located 240 kilometres east of Puerto Rico, and south of Anguilla, and belongs to the Lesser Antilles. Sint Maarten is divided into a French and a Dutch part. The Dutch part belongs to the Windward Islands of the Netherlands Antilles. The total area of the island is 87 km². The Dutch part (south) has a surface area of 34 km².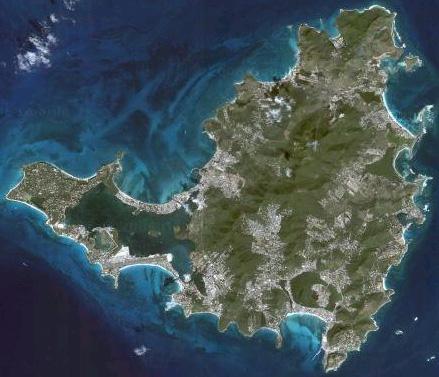 Sint Sint Maarten Satellite PhotoPhoto: Public domain
Landscape
Sint Maarten is hilly and has tropical vegetation. There are more than 30 bays on the island. Sint Maarten is partly covered with salt lakes and lagoons. The highest mountain is Paradise Peek, this mountain is located on the French part of Sint Maarten.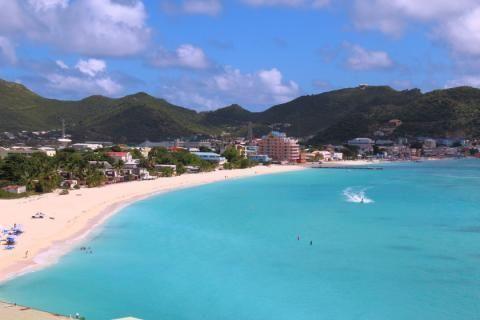 Philipsburg and the Great Bay, Sint MaartenPhoto: Clavius66 CC BY-SA 3.0 no changes made
Climate and Weather
Despite their tropical location, the islands have a pleasant climate all year round, thanks to the fresh north-eastern trade winds and low relative humidity of the air. The average temperatures on the various islands do not differ much. The average annual temperature is 27.5 °C; January is the coolest month with average temperatures of 28.5 °C during the day and 21.5 °C at night; September is the warmest month with average temperatures of 30 °C and 26 °C respectively. The Windward Islands have an average annual rainfall of 1080 mm. The Windward Islands are located in an area prone to hurricanes. The hurricane season runs from July to November.
Plants and Animals
Plants
The Windward Islands have savannah areas and stretches of tropical rainforest. All kinds of palm trees, cacti, orchids, fruit trees and ferns grow there. Furthermore, there are many flowers all year round, because this area has no seasons. The most famous flower of Sint Maarten is the Laterna Camara. Other well-known trees and plants on Sint Maarten are the cacao tree, coconut palm, cassava, tamarind. The wild banana and the soursop.
Animals
The fauna on the Leeward Islands is somewhat more restricted than on the Windward Islands. There are feral goats and quite a few birds. Hummingbirds, frigate birds, herons and ducks, among others. On Saba and Sint Eustatius there are harmless snakes (Racer snakes). There are also several lizards, forest rats and land hermit crabs. All islands have coral reefs, the most beautiful of the Windward Islands can be found around Saba. Here swim numerous fish such as the emperor fish, parrot fish, wrasses, seahorses, rays, dolphins and whales. Furthermore, there are a number of predatory fish such as sharks and barracudas.
---
Sources
Wikipedia

Derksen,G / Nederlandse Antillen en Aruba
Gottmer

Soesbergen, M. van / Bovenwindse eilanden
Elmar

CIA - World Factbook

BBC - Country Profiles
Last updated November 2023
Copyright: Team
The World of Info