PHILIPPINES
Language

Cities in PHILIPPINES
Language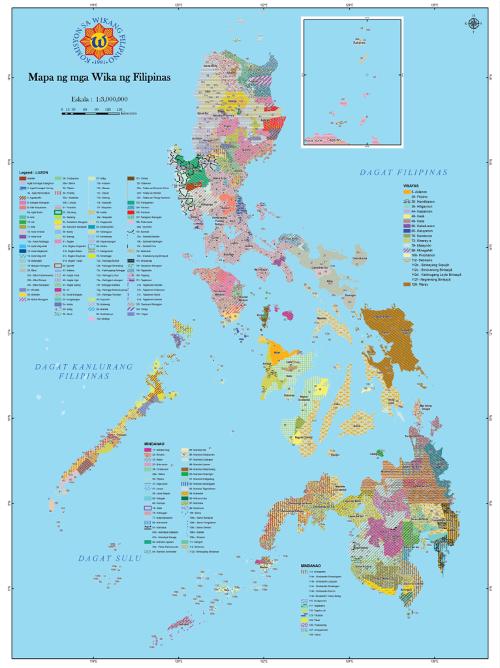 Philippines Language MapPhoto: Public domain
Tagalog was declared the national language in 1946. In order not to offend the other population groups too much, the name of the official language was changed to "Pilipino" in 1959 and the vocabulary of some regions was added. From 1973, the Tagalog-based national language was renamed again: "Filipino". Since 1978, Filipino has been compulsory in schools and more than half of the population speaks this language.
English is used as an official second language, especially by the government, in education and as a trade language.
Spanish is only used by a small elite group. A local dialect, Chavacano, laced with Spanish expressions, is only spoken by the inhabitants of Zamboanga on the island of Mindanao.
There are also about 80 indigenous languages and dialects in the Philippines. The original Tagalog and Cebuano are spoken by about a quarter of the population. Other indigenous languages are: Ilocano, Ilongo or Hiligaynon, Bicol and Waray-waray.
Glossary Filipino (Tagalog) and Cebuano and Spanish variant commonly used:
| | | | |
| --- | --- | --- | --- |
| English | Filipino | Cebuano | Spaanse variant |
| one | isá | usa | uno |
| two | dalawá | duha | dos |
| three | tatló | tulo | tres |
| ten | sampú | napulo | diyes |
| hundred | isáng daán | usa kagatos | siyento |
| sunday | linggo | dominggo | |
| wednesday | miyerkoles | miyerkoles | |
| friday | biyernes | biyernes | viernes |
| yesterday | kahápon | gahapon | |
| tomorrow | búkas | ugma | |
| sun | araw | adlaw | |
| rain | ulan | ulan | |
| yes | oó | oo | |
| no | hindí | dili | |
| please | paki | palihug | |
| hello | magandáng tanghali | maayong adlaw | |
| good evening | magandáng gabi | maayong gabii | |
| airplane | eroplano | ayroplano | |
| how much does this cost? | Magkano ito? | Pila man ni? | |
| I'm from... | ako ay taga... | ako taga... | |
---
Sources
Filippijnen
Het Spectrum
Philippines
Lonely Planet
Poppe, D. / Reishandboek Filippijnen
Elmar
Rodell, P.A. / Culture and customs of the Philippines
Greenwood Press
Wee, J. / Philippines
Chelsea House

CIA - World Factbook

BBC - Country Profiles
Last updated November 2023
Copyright: Team
The World of Info