PHILIPPINES
Climate and Weather

Cities in PHILIPPINES
Climate and Weather
The Philippines, located just above the equator, has a tropical climate with high humidity (on average more than 70%) and with much to very much rainfall.
Climate map of the PhilippinesPhoto: Public domain
The Philippines has an average annual temperature of 27°C. Despite the great north-south distance of 1800 km, the average temperature in the north is only 2°C lower than in the south. The average temperatures in the hottest and "coldest" months are also no more than 5°C apart. This is also due to its location by the sea, which provides a considerable tempering of high and low temperatures.
It never gets really cold, especially in the low-lying areas. In January, the coldest month, it can still regularly reach almost 30°C during the day and 20°C overnight. Only in the higher mountain regions can the temperature drop below 10°C.
On average, the Philippines has about 2,400 mm of rainfall per year. There are indeed differences in rainfall, both during the year and on the different islands of the archipelago. For example, the coastal areas on the west side of the islands are strongly influenced by the southwest monsoon or "habágat", which can bring a lot of rain in the period June-October.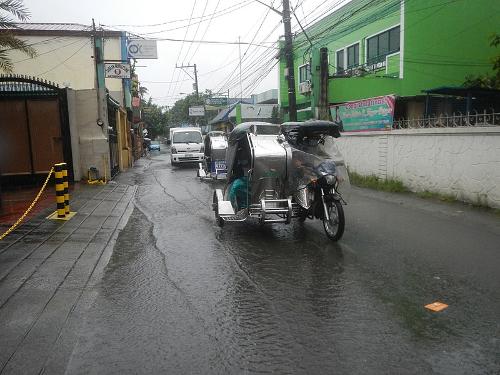 Monsoon in the PhilippinesPhoto: Judgefloro in the public domain
The period December-May is the dry period here, with the least rainfall from February to April. On the east coast of the Philippine Islands, the weather is more even with rainfall in all seasons. Most rain falls in the months of November to January due to the northeast monsoon or "amíhan".
The driest areas are in the rain shadow of the mountains, for example the Cagayan Valley in Northern Luzon, where "only" 890 mm falls per year. Catanduanes has the most rainfall off the south coast of Luzon, with 5461 mm; the capital Manila comes to 2083 mm.
Every year the Philippines suffers from about 30 typhoons or "bagyó". Combined with tidal waves, floods, landslides and wind speeds of more than 300 km per hour, they often cause a lot of damage and regularly claim casualties. The likelihood of these violent storms is greatest in the period July-early December, with peaks in September.
The coastal regions along the Pacific, especially Leyte and Samar, islands in the eastern part of the Visaya group, and eastern Luzon, are among the areas most at risk for these devastating natural phenomena. The western part of the Visaya group, Palawan and much of Mindanao, are much less prone to typhoons.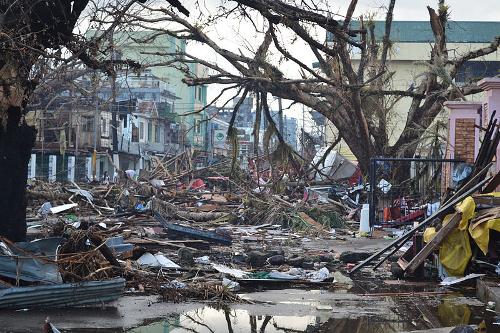 Damage caused by Typhoon Haiyan in Tacioban on Leyte Island in the PhilippinesPhoto: Trocaire CC 2.0 Generic no changes made
On November 8, 2013, the Philippines was hit by Typhoon Haiyan, which reached wind speeds of over 300 km / h and caused massive damage, particularly on Leyte Island. More than 4,000 people were killed and millions of people were left homeless.
---
Sources
Filippijnen
Het Spectrum
Philippines
Lonely Planet
Poppe, D. / Reishandboek Filippijnen
Elmar
Rodell, P.A. / Culture and customs of the Philippines
Greenwood Press
Wee, J. / Philippines
Chelsea House

CIA - World Factbook

BBC - Country Profiles
Last updated November 2023
Copyright: Team
The World of Info