MEXICO
Vacations and Sightseeing

Basic information
Official language
Spanish
Capital
Mexico-Cty
Area
1.958.201 km²
Population
131,248,472 (2021)
Currency
Mexican peso (MXN)
Web
.mx
Code.
MEX
Tel.
+52

Cities in MEXICO
Vacations and Sightseeing
For Mexico, tourism is of great importance: foreign exchange, mainly coming from American tourists, makes up about 10% of the current account of the balance of payments. Daytime tourism from the United States is worth many millions of dollars. The tourism sector has thus become the country's third largest foreign exchange contributor. About 10 million foreigners visit Mexico every year.
Through the Fondo Nacional de Turismo (FONATUR), the government tries to greatly increase and improve tourist capacity.
Mexico City is the capital of Mexico. Mexico City's historic center and Xochimilco's "floating gardens" in the southern part of the city have been declared World Heritage Sites by UNESCO. Famous sights in the historic center include the Plaza de la Constitución, the main central square. The Cathedral and the National Palace, also the ancient Aztec temple ruins of Templo Mayor are a short distance away. Read more on the Mexico-City page of TheWorldOfInfo.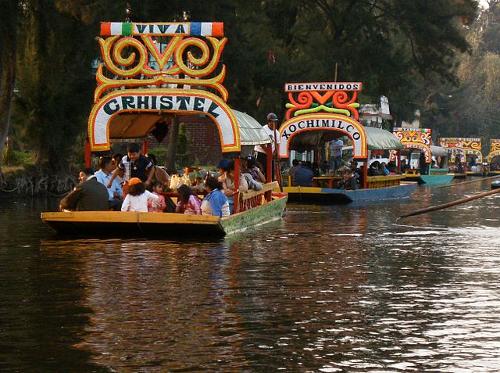 Trajinera on one of the canals of Xochimilco, MexicoPhoto: Jflo23 CC 3.0 Unported no changes made
The Mexican east coast sometimes feels like paradise and the town of Playa del Carmen is no exception. Pearly white beaches as far as the eye can see, a sky blue sea and swaying palm trees are the standard here. Although almost every tourist in Playa del Carmen comes for sun, sea and sand, it is also good to know that there is more to do. For example, you can spend a day at Xcaret. This is a nature park and a culture park in one. Remains of the ancient port of the Maya have been found here, who left for Cozumel Island from here. It was also a spiritual place and there was plenty of trade in goods.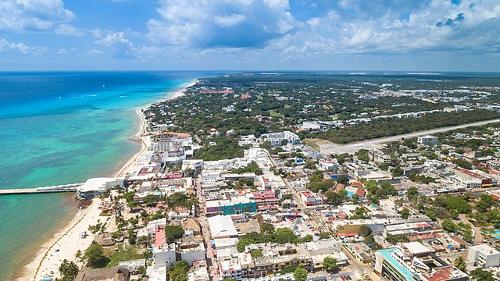 Aerial of Playa del Carmen, MexicoPhoto: Dronepicr CC 2.0 Generic no changes made
Riviera Maya is a beautiful destination for a holiday full of sun, sea, beach, party, nature and culture. Chichen Itzá is located near Playa del Carmen. This used to be a city of the Maya. Today you can visit various relics of that period, such as the Temple of the Tables, The Red House, the Tomb of the High Priest and the Nunnery. These ancient treasures are still in good condition and will remain so for now, as Chichen Itzá is included on UNESCO's World Heritage List.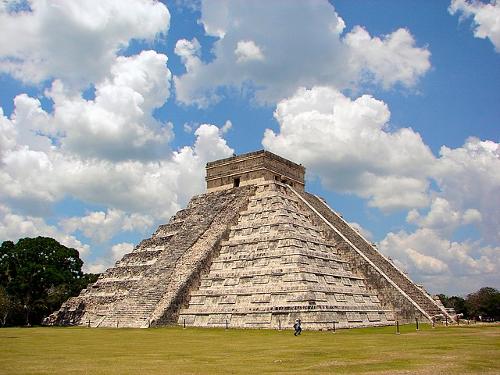 Chichen Itza, touristic highlight MexicoPhoto: Bjørn Christian Tørrissen CC 3.0 Unported no changes made
---
Sources
Daling, T. / Mexico : mensen, politiek, economie, cultuur, milieu
Koninklijk Instituut voor de Tropen / Novib
Dunlop, F. / Mexico
Van Reemst,
Mexico
Cambium
Rokebrand, R. / Mexico
Gottmer/Becht
Rummel, J. / Mexico
Chelsea House Publishers
Wagenvoort, E. / Reishandboek Mexico
Elmar

CIA - World Factbook

BBC - Country Profiles
Last updated November 2023
Copyright: Team
The World of Info