IRAQ



Cities in IRAQ
Geography and Landscape
Geography
Iraq is located in the Middle East and lies between Iran and Kuwait, bordering the Persian Gulf. Iraq borders Iran, Jordan, Kuwait, Saudi Arabia and Turkey. The surface area of Iraq is 437,072 square kilometres.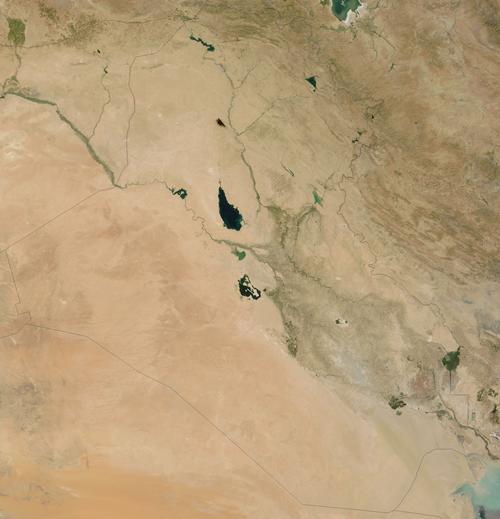 Iraq satellite photoPhoto: Public domain
Landscape
Iraq can be divided into four regions, each with a different type of landscape. The first region is found in the north-east of the country. This region is characterised by a mountainous landscape, the Kurdistan Mountains. Here, on the border with Iran, are the high mountains Kuh-e Haji Ebrahim (3587 m), Cheekha Dar (3611 m) and Halgurd (3507 m).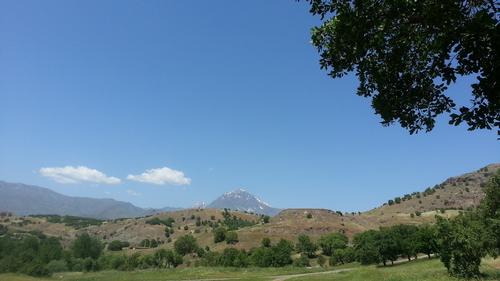 Diyako kazm, high mountain in IraqPhoto: Diyako kazm CC 3.0 Unported no changes made
The second region lies between Baghdad and the point where the two major rivers, the Euphrates and the Tigris, meet. This area is very flat and consists of swamps and silt plains. In the spring, the Tigris causes major floods in this area.
In the third region, the land between the Euphrates and the Tigris north of Baghdad, a plateau (the el-Djazira) extends above the two rivers which are very low here.
In the south and west of Iraq lies the fourth region. This is desert landscape that covers a total of 40% of the country's total area.
Climate and Weather
The climate in Iraq is mainly a desert climate with very hot dry summers and mild to cold winters. In the northern mountain areas, the winter is very cold with sometimes heavy snowfall. The temperature in Baghdad in July and August is around 33 ºC. In the winter it is about 9 ºC.
Plants and Animals
Plants
The plant world in Iraq is not very varied. This is mainly because the country largely consists of desert. In the south of the country, in the marshlands, there is lush reed vegetation.
Animals
The dry areas of Iraq are home to many herds of reindeer as well as buffalo, antelope, gazelle, zebra and giraffe. The number of mammals in Iraq has fallen sharply in recent years because these animals are hunted.
As a result, the Mesopotamian lion and the Arabian ostrich, among others, have become extinct.
There are many birds of prey in Iraq, such as the buzzard, the owl, the raven and the vulture. Other birds that live in Iraq are geese, ducks, partridges and black grouse.
---
Sources
Elmar Landeninformatie

CIA - World Factbook

BBC - Country Profiles
Last updated October 2023
Copyright: Team
The World of Info