SOUTH AFRICA
Vacations and Sightseeing

Basic information
Official language
English
Capital
Pretoria
Area
1.221.037 km²
Population
60,633,876 (2021)
Currency
rand (ZAR)
Web
.za
Code.
ZAF
Tel.
+27

Cities in SOUTH AFRICA
Vacations and Sightseeing
The tourist industry is becoming increasingly important for the South African economy. Many millions of foreigners visit South Africa every year. That number may increase many times, but for the time being there is not enough facilities to receive many more tourists. Most visitors come from Africa, but the number of visitors from outside Africa is increasing very quickly.
One of South Africa's biggest attractions is the Kruger Park. This is a large wildlife park in the northeast of South Africa, on the border with Zimbabwe and Mozambique. There are many animal species to spot. The most famous are the Big Five. This means the lion, the rhinoceros, the buffalo, the leopard and the African elephant. Another attraction is Drakensbergen. This is a mountain range with a lot of natural beauty, which can count on increasing tourist interest.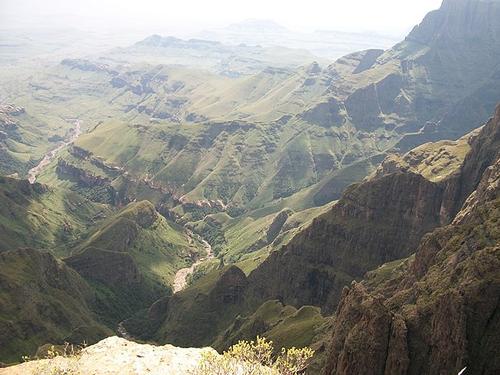 Drakensberg, South AfricaPhoto: Iri Soda CC3.0 Unported no changes made
Johannesburg with the famous Soweto has emerged as one of the most popular tourist places in South Africa. Some of the major attractions in Johannesburg include: • Lesedi Cultural Village • James Hall Transport Museum • AECI Dynamite Factory Museum • Florence Bloom Bird Park • South African National Museum of Military History • Witwatersrand Botanical Garden
History museums such as the Apartheid Museum and the Hector Pieterson Museum attract tourists from all parts of the world. The city also has several art museums such as the Johannesburg Art Gallery, with many South African and European landscape paintings and figurative paintings, and the Africa Museum describing the history of the city of Johannesburg.
Cape Town with Table Mountain and a swinging center is also worth a visit. The Groote Kerk is probably the most famous church in South Africa. The church was built in the 19th century on the site of an earlier Dutch Reformed Church. The Groote Kerk has a number of particularly interesting sights, such as the lockable pews, the enormous pulpit, the pipe organ with 6000 pipes and an unusual soapstone floor, under which about 200 people are buried.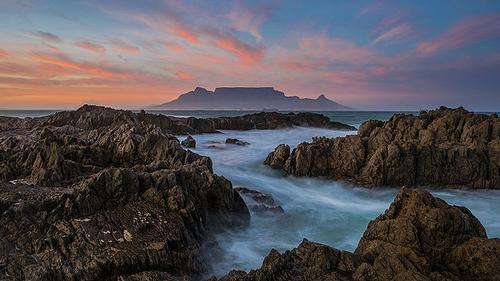 Table Mountain, highlight touristic South AfricaPhoto: Brendon Wainwright CC 3.0 Unported no changes made
The renovated Victoria and Albert Waterfront is now a vibrant cultural and recreational center.
Table Mountain is Cape Town's most visited landmark. A cable car (gondola) takes visitors to the top at 1085 meters in just six minutes. Once there, on a clear day you can see spectacular panoramic views that make a big impression. The more adventurous can follow different trails that run across the mountain and enjoy even more beautiful views of the city and ocean.
Robben Island is part of the UNESCO World Heritage Site and is accessible with a short ferry ride across Table Bay. The most famous prisoner of this infamous prison was of course Nelson Mandela. Prison tours are conducted by former political prisoners.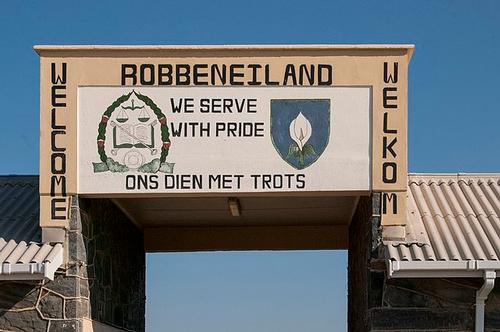 Entrance Robben Island, South AfricaPhoto: Moheen Reeyad CC BY-SA 4.0 no changes made
---
Sources
Dekker, M. / Zuid-Afrika
Gottmer/Becht
Luirink, B. / Zuid-Afrika : mensen, politiek, economie, cultuur, milieu
Koninklijk Instituut voor de Tropen,
Moerkamp, J. / Zuid-Afrika
ANWB
Schaap, D. / Zuid-Afrika
Minbuza Kosmos-Z&K
Zuid-Afrika
Cambium
CIA - World Factbook
BBC - Country Profiles
Last updated November 2023
Copyright: Team
The World of Info