LUXEMBOURG
Luxembourg City

Luxembourg City
Luxembourg City has long been the capital of the country of the same name. It is a relatively small, but very pleasant fortress city. The country of Luxembourg is located in Western Europe and is completely surrounded by Germany, France and Belgium.
With a surface area of 2,586 km², Luxembourg is one of the smallest countries in Europe. Luxembourg is a so-called Grand Duchy.
Luxembourg City is a relatively unknown destination for holidays and city trips, but the city is definitely worth a visit. Especially in the cultural field, Luxembourg flourishes. There are beautiful historical buildings and interesting museums to be found. Moreover, you can eat well in Luxembourg City and the people are hospitable.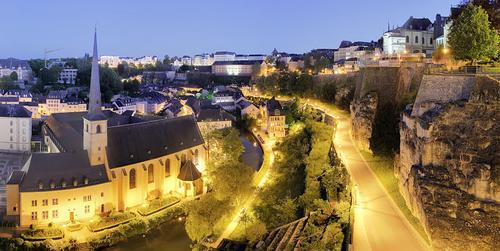 Luxembourg City at nightPhoto: Benh LIEU SONG CC BY-SA 2.0 no changes made
Location
Luxembourg City is located in the heart of Europe. The municipality of Luxembourg City covers a total area of more than 51 square kilometres, which is 2% of the total area of the Grand Duchy. The city has a lot of green and is situated on cliffs above the rivers Alzette and Petrusse. A 70-metre deep gorge runs right through Luxembourg City.
Weather
Luxembourg has a temperate maritime climate, despite its lack of sea. Luxembourg's climate is therefore very similar to that of England. It has mild winters and fairly cool summers.

January: average 3°C, 12 days of precipitation and 46 hours of sunshine
February: average 5°C, 10 days of precipitation and 81 hours of sunshine
March: average 9°C, 12 days of precipitation and 118 hours of sunshine
April: 12°C average, 10 days of precipitation and 171 hours of sunshine
May: average 17°C, 11 days of precipitation and 210 hours of sunshine
June: average 20°C, 11 days of precipitation and 209 hours of sunshine
July: average 23°C, 9 days of precipitation and 234 hours of sunshine
August: 23°C on average, 9 days of precipitation and 227 hours of sunshine
September: average 18°C, 9 days of precipitation and 154 hours of sunshine
October: average 13°C, 11 days of precipitation and 103 hours of sunshine
November: average 7°C, 12 days of precipitation and 55 hours of sunshine
December: average 4°C, 12 days of precipitation and 39 hours of sunshine

In the south of Luxembourg, snow falls regularly in winter. This is not the case in Luxembourg City. There will be occasional snow in the capital, but most of the snow falls in the higher and more southern parts of the country.
History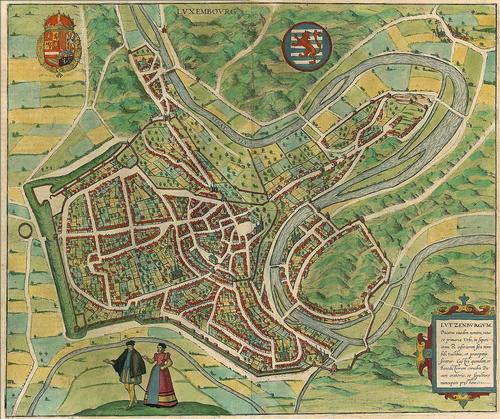 Luxembourg city map from 1581Photo: Public domain
Luxembourg City was founded around 963. In that year, the Earl of the Ardennes, Siegfried, expanded the fortified tower that already stood on the Bock Rock into a castle. This castle in turn grew into the city of Luxembourg. The castle was not only the beginning of the city of Luxembourg, but of the entire country.
In the Second World War, Luxembourg was drawn into the Third Reich. The administration of Luxembourg fled to London. After the war, Luxembourg became a founding member of the UN and NATO. Luxembourg also became a member of the European Community in 1957.
Luxembourg also has a rich history in banking. The city is still the seat of many banks. As a result, several phenomenal bank buildings from different periods can be found in the city. Moreover, many European institutions are located in Luxembourg City.
Sights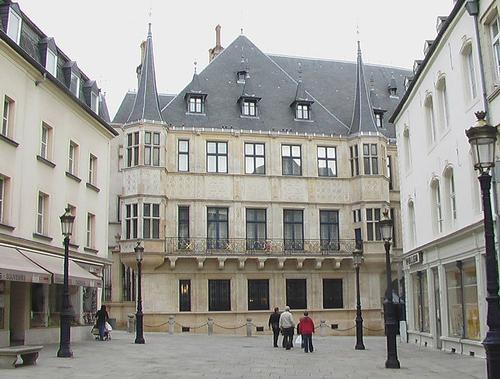 Palais Grand-Ducal Luxemburg CityPhoto: Public domain
What is there to see and do in Luxembourg City? As described earlier, there are many beautiful old buildings and fascinating museums in the city. It is certainly worthwhile to take a closer look at some of them. A walk through the historical centre of Luxembourg City will introduce you to some fantastic buildings. There are also many castles and fortresses in the Luxembourg capital. For example, the imposing Palais Grand-Ducal (the Grand Duke's castle). The castle dates back to 1572, but has been extended and rebuilt many times since. The current Grand Duke of Luxembourg still lives in this castle.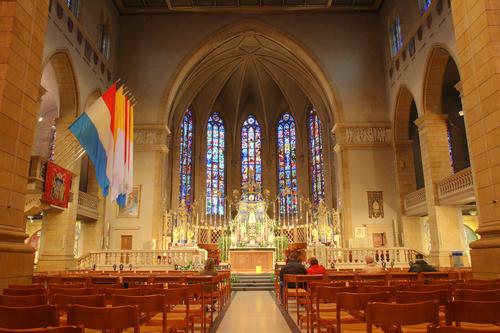 Interior of Luxembourg City CathedralPhoto: Benh LIEU SONG CC 3.0 Unported no changes made
The Cathedral of Luxembourg City with the beautiful name Cathédrale Notre-Dame de Luxembourg is also worth seeing. In the church, you will find a special 17th-century statue of the Virgin Mary. The statue comes from a chapel outside Luxembourg City.
It is believed that the statue protected the inhabitants of Luxembourg during a plague epidemic. That is why it deserves a place of honour in the great cathedral of Luxembourg.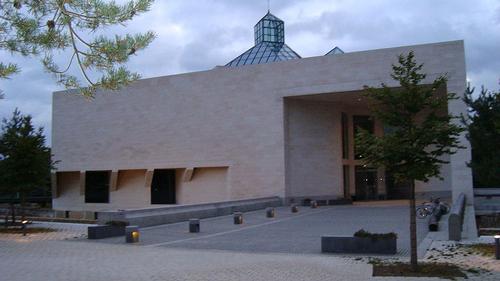 MUdam Luxembourg CityPhoto: Zulfow in the public domain

The Mudam ( Musée d'Art moderne Grandduc Jean) is the most important museum devoted to contemporary art in Luxembourg. The museum strives to pay attention to every discipline. The collection and it tries to reflect the current artistic trends and to follow the emergence of new artistic practices at national and international level. The building designed by the famous Chinese-American architect Ieoh Ming Pei is a beautiful dialogue between the natural and historical environment. It stands against the remains of Fort Thüngen and follows the course of the former surrounding walls. The museum is spread over three levels and has 4,500 m2 of exhibition space.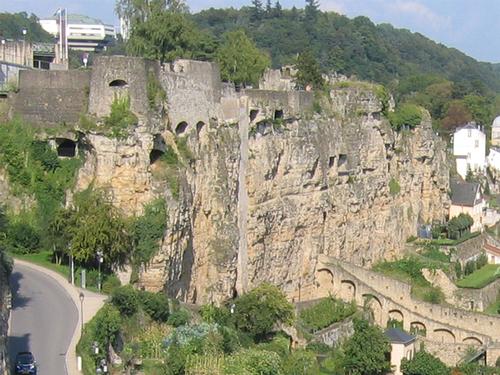 Luxembourg City RampartsPhoto: Caranorn CC 3.0 Unported no changes made
Luxembourg's old city centre and ramparts have been largely preserved and this makes Luxembourg a beautiful historical city. The casemates date from 1644. Originally the underground passages were 23 kilometres long, now there are only 17 kilometres left. Two are still open to the public, Petrusse and Bock. Since 1994, these historical features have officially belonged to the Unesco World Heritage.
Tips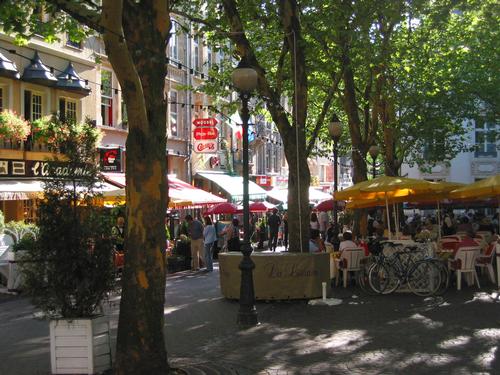 Luxembourg City Place d'ArmesPhoto: Public Domain
Nightlife in Luxembourg City is in and around Place d'Armes. Here you will find many cafés, terraces and restaurants. Near the river Alzette is an area called Grund with many cafés and restaurants. Grund can be reached by lift from the centre. The opening hours of the shops are from Tuesday to Saturday from 9 am to 6 pm. On Mondays, the shops only open at about 2pm. On Sundays the shops are closed.