LAOS
Geography and Landscape

Basic information
Official language
Lao
Capital
Vientiane
Area
236.800 km²
Population
7,454,566 (2021)
Currency
kip (LAK)
Web
.la
Code.
LAO
Tel.
+856

Geography and Landscape
Geography
Laos (officially: Lao People's Democratic Republic; Sathalanalat Paxathipatai Paxon Lao) is a republic in Southeast Asia and is located on the peninsula of the Indies.

The surface area of Laos is 236,800 km2. The maximum distance between the north and the south is about 1000 km and between the east and the west 450 km. Laos at its narrowest measures only about 100 km.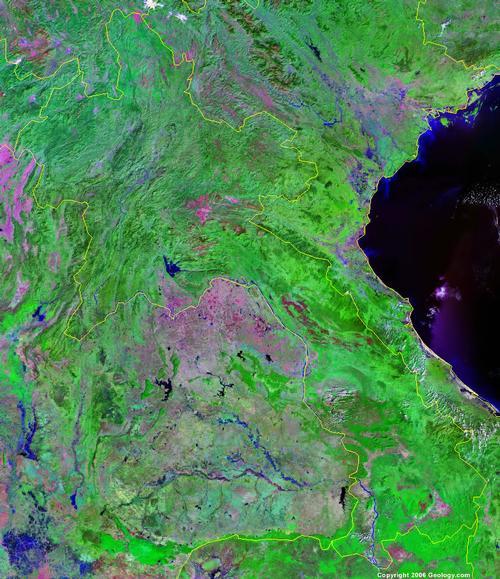 Laos Satellite PhotoPhoto: Public domain
Laos is surrounded by other countries and borders China (423 km) and Myanmar (235 km) to the north, Vietnam (2130 km) to the east and north-east, Cambodia (541 km) to the south and Thailand (1754 km) to the west.
Landscape
Almost the whole of Laos is hilly with several mountainous areas and half of the country is covered with forests. Especially the north, with an average altitude of 1500 metres, forms a mountain landscape strongly interspersed by rivers. The core is formed by the Tran Ninh Highlands with the highest point Phu Bia at 2835 metres, followed by Phu Xao (2690 m) and Phu Xamxum (2620 m). To the south, the eastern border is formed by the Cordillere of Annam. There are four mountain plateaus spread across Laos: the Nakai Plateau and the limestone Khammuan Plateau in the north, the Xieng Khouang Plateau in the middle and the Boloven Plateau in the south (average altitude 1070 metres).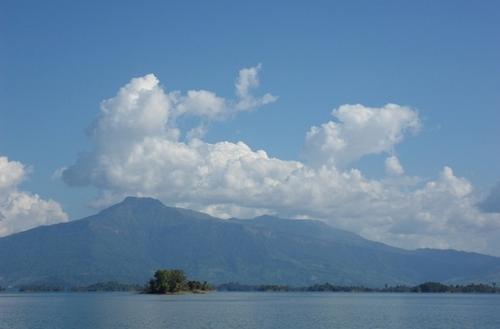 Phu Bia, highest mountain in Laos, as seen from Lake Nam NgumPhoto: Chaoborus CC BY-SA 3.0 no changes made
The western border is almost entirely formed by the Mekong River, to which most other rivers, including the Nam Ou, Nam Tha and Nam Ngum, drain. The Mekong is a total of 4350 km long and flows almost 1900 km within Laos.
The Li Phi (Samphamit) waterfall and the Khong Phapheng waterfall are the largest in Southeast Asia. The Khong Phapheng is among the widest in the world.
---
Sources
Boon, H. / Laos : mensen, politiek, economie, cultuur, milieu
Koninklijk Instituut voor de Tropen
Cummings, J. / Laos
Lonely Planet
Te gast in Laos & Cambodja
Informatie Verre Reizen
Waard, P. de / Laos
Elmar
Zickgraf, R. / Laos
Chelsea House Publishers

CIA - World Factbook

BBC - Country Profiles
Last updated November 2023
Copyright: Team
The World of Info