BENIN
Geography and Landscape

Basic information
Official language
French
Capital
Porto-Novo
Area
112,622 km²
Population
12,451,040 (2021)
Currency
West African CFA franc (XOF)
Web
.bj
Code.
BEN
Tel.
+229

Geography and Landscape
Geography
Benin is located in West Africa and borders Burkina Faso to the northwest, Niger to the north, Nigeria to the east and Togo to the west. On the sea side it is located at the bend of Benin. The area of Benin is 112,622 square kilometers.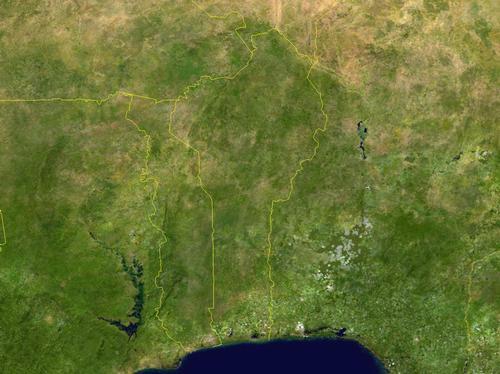 Benin Satellite photoPhoto: Public domain
Landscape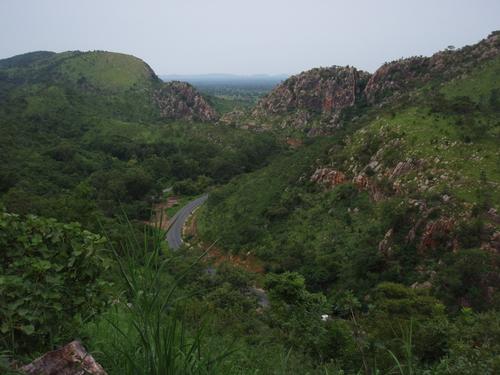 Benin LandscapePhoto: Wegmann CC 4.0 International no changes made
Benin has a low and sandy coast in the south with a narrow coastal plain behind it. Behind this coastal plain there are lagoons and swamps. The largest lagoon is Lake Nokoué. This lagoon forms the northern boundary of the city of Cotonou and the southern boundary of the capital Porto Novo. The largest river in Benin is the Ouémé. This flows south towards Lake Nokoué. Some other rivers are Mekrou and Alibori.
Inland it remains flat. Only along the coast have the plains given way to forests. The north is occupied by the Chaîne de l'Atakora, which enclose the fertile basins of Borgou and Kandi. In Benin, a fertile plain stretches as far as the Niger River, which is bisected halfway by the low Atakora ridge with a height of 500 m.
Climate and Weather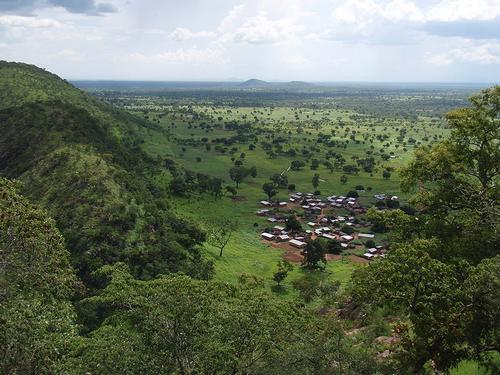 Atakora BeninPhoto: Wegmann CC 4.0 International no changes made
The climate in Benin is tropical, humid in the south and more savannah-like in the north. The average rainfall is 1245 mm per year. Areas around the Atakora Mountains receive the most rainfall. Temperatures can reach up to 47° C. The average temperature in the south is between 18° C and 35° C. The best time for a visit of Benin are the driest and less humid months of the dry season, between November and March.
Plants and Animals
Plants
Benin Mango treesPhoto: Rameshng in the publc domain
Most of the country is covered with moist savannas with scattered tree species. Most common are acacia, acajou, monkey bread, kapok, mango, palm and teak. The south of the country originally consisted of tropical rainforest. There is still tropical rainforest along the rivers and in the extreme southeast. One third of the country is covered with forest. Further north, the landscape becomes more barren.
Animals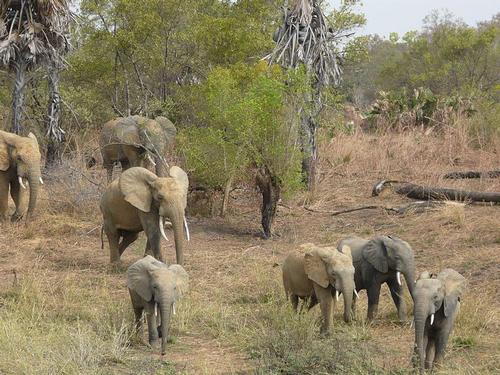 Benin Elephants in Pendjari National ParkPhoto: Marc Auer CC 2.0 Generic no changes made
In Benin, elephants, lions, monkeys, snakes, crocodiles, buffalos, giraffes, cheetahs, hippos and panthers and many bird species are found. Pendjari National Park and the other National Parks protect wild animal species.
---
Sources
Elmar Landeninformatie

CIA - World Factbook

BBC - Country Profiles
Last updated November 2023
Copyright: Team
The World of Info