SOUTH KOREA
Geography and Landscape

Basic information
Official language
Korean
Capital
Seoul
Area
99.538 km²
Population
51,347,390 (2021)
Currency
won (KRW)
Web
.kr
Code.
KOR
Tel.
+82

Geography and Landscape
Geography
South Korea is located in East Asia and occupies the southern part of the Korean peninsula between the Bay of Korea and the China Sea. South Korea has a border with North Korea. The surface area of South Korea is 98,480 square kilometres.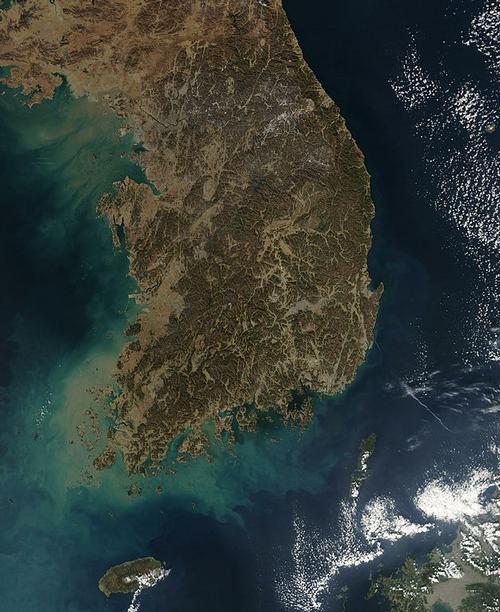 South-Korea Satellite PhotoPhoto: Public domain
Landscape
A large part of South Korea is mountainous, especially on the east coast. The highest point of the mountain range and of South Korea is the Halla-san (1950 metres), located in Cheju-do province. The west and south are flatter. Beaches can be found in the east and south-east.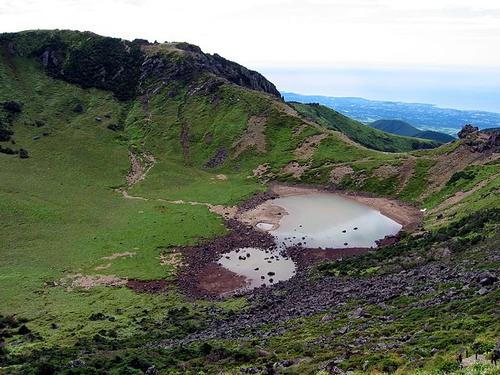 Halla-san, highest mountain in South KoreaPhoto: AndiW in the public domain
The two most important rivers are the Naktong (525 km) and the Han (320 km), which flows through the capital Seoul. Both have their origin in the Taebaek-San Maek mountains. The Naktong flows into the Strait of Korea, while the Han flows into the Yellow Sea in the northwest.
Climate and Weather
South Korea has a temperate continental climate. In the winter, which lasts from November to March, temperatures are around zero degrees Celsius. In the higher regions, temperatures can drop to minus fifteen degrees and there is plenty of snow. The south is the warmest and wettest part of Korea. In the summer there are monsoon rains.
Plants and Animals
Plants
The northernmost part of South Korea is the coldest. In this area, you will find a lot of beech, birch, spruce, larch, oak and pine trees.
Further south, trees also dominate the area. Due to the warmer climate in the southernmost part of the country, the vegetation there is very lush. The garden hibiscus (Hibiscus syriacus) or althea bush after its ancient name, is the national flower of South Korea, the Korean pine is the national tree.
Animals
The largest animal is the Asiatic black bear. It is regularly spotted in the large national parks. The Siberian tigers, which used to be very common in the country, are no longer there. There are 379 species of birds, including 266 migratory birds. The national animal of South Korea is the Siberian tiger, the national bird is the magpie.
---
Sources
Elmar Landeninformatie
CIA - World Factbook
BBC - Country Profiles
Last updated November 2023
Copyright: Team
The World of Info