SENEGAL
Climate and Weather


Climate and Weather
Senegal is in a transition zone in terms of climate. The north is strongly influenced by the Sahara desert. The rainy season in the north is only short and just enough to make agriculture and especially the important peanut cultivation possible. The rainy period runs from July to mid-October. Average annual rainfall increases from north to south and inland to the coast, almost always in the form of downpours that can last several hours. Due to the very high humidity in combination with the high temperatures, this period, called hivernage, is not the most pleasant time.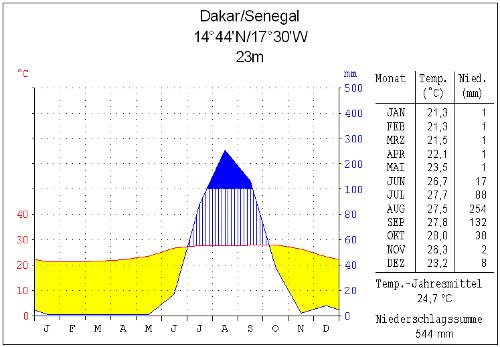 Climate diagram Dakar, SenegalPhoto:Hedwig in Wahington CC 3.0 Unported no changes made
In the southwest of the Casamance an average of 1500-2000 mm of precipitation falls per year. In the north falls only 300-400 mm. In the area around the capital Dakar ± 500 mm falls per year.
The climate in the coastal strip from Dakar to the south is somewhat more moderate due to the influence of the sea. In December during the day about 22°C until May / June about 35°C. It cools down considerably at night. The hottest months are May / June and October on the coast, and March to June and October inland. In the interior, temperatures in the summer months can reach between 40 and 50°C. Kaolack is the hottest city in Senegal; In the afternoon it is usually around 38°C.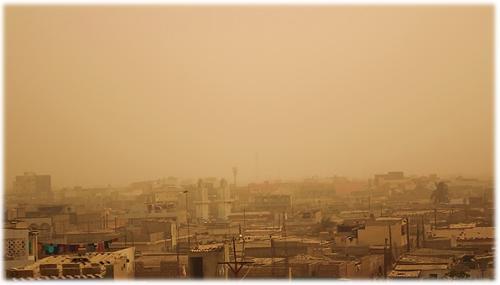 Harmattan on Dakar, SenegalPhoto:EquipeTKNal CC 4.0 International no changes made
In the Sahel zone, the nights can be chilly and the temperature can drop to 10-15° C. In the afternoon the temperature can rise again to 40 degrees. Along the Senegal River, the dry season lasts 8-10 months, in the Casamance five months. The driest area is around St. Louis in the north, where an average of 345 mm falls per year. From January to March the "harmattan", a fresh desert wind, often blows. The disadvantage is that this wind often carries thick red dust from the Sahara.
---
Sources
Derksen, G. / Gambia, Senegal
Gottmer
Dirkx, J. / Reishandboek Senegal
Elmar
Else, D. / The Gambia and Senegal
Lonely Planet
Gambia en Senegal
Cambium
Hesseling, G. / Senegal/Gambia : mensen, politiek, economie, cultuur
Koninklijk Instituut voor de Tropen

CIA - World Factbook

BBC - Country Profiles
Last updated November 2023
Copyright: Team
The World of Info