PAKISTAN



Cities in PAKISTAN
Geography and Landscape
Geography
Pakistan is located in South Asia between India to the east, Iran and Afghanistan to the west and China to the north. These are also the countries with which Pakistan shares common borders. The surface area of Pakistan is 803,940 square kilometres.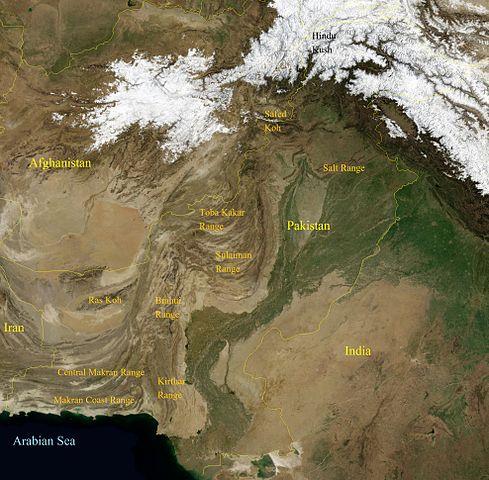 Pakistan Satellite PhotoPhoto: Public Domain
Landscape
The landscape of Pakistan can be described in three parts.
The mountainous north, where three of the world's largest mountain ranges meet (the Hindu Kush, the Karakoram mountains and the Himalayas)
The vast but sparsely populated plateau of Baluchistan in the southwest (44 percent of Pakistan's total land area)
The Punjab and Sind plains of the Indus River and its five major tributaries.
The source of Pakistan's life is the river Indus. Together with its tributaries, it provides the water for the most extensive irrigation system in the world. Kashmir province has some of the highest mountain peaks in the world: the Nanga Parbat (8162 m) and the K2 (8611 m).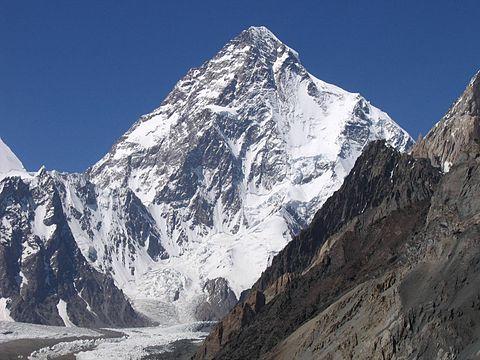 K2, PakistanPhoto: Svy123 CC BY 3.0 no changes made
Climate and Weather
There are great differences due to geographical diversity. In the south and centre, there is predominantly a desert climate with a cool and dry season from December to March. A hot and dry season from March to June and the monsoon period in July and August. In the north, it is cooler in summer and cold in winter.
Pakistan is fairly dry, but the area stretching from Lahore to the mountain slopes north of Islamabad experiences the southwest monsoon. This reaches Pakistan in July and brings heavy summer storms and rainfall until September.
Plants ans Animals
Plants
The natural vegetation in the lowlands of Pakistan is very irregular. It consists mostly of scattered clumps of grass and stunted forests. As the landscape rises, however, there are large coniferous forests and slopes covered with colourful flowers.
The national flower of Pakistan is the common jasmine (also called chamber jasmine or white jasmine).
Animals
More than 740 bird species are found in Pakistan, the national bird being the stone partridge.
The Indus is one of the world's major bird migration routes and the lakes and water basins in the Punjab and Sind are home to many migratory birds during the winter months. The coastline and desert areas are also places of special bird species. The mountains are home to, among others, bears, deer, jackals and perhaps a few snow leopards. This species is almost extinct here. The makhor or screw goat is the national animal of Pakistan.
In the waters along the 1,000-kilometre stretch of coastline, you will find sharks, shellfish and sea turtles. Crocodiles live in the Indus Delta.
---
Sources
Elmar Landeninformatie

CIA - World Factbook

BBC - Country Profiles
Last updated November 2023
Copyright: Team
The World of Info