GHANA
Geography and Landscape

Basic information
Official language
English
Capital
Accra
Area
238.533 km²
Population
32,158,091 (2021)
Currency
cedi (GHS)
Web
.gh
Code.
GHA
Tel.
+233

Geography and Landscape
Geography
Ghana is located in West Africa on the Gulf of Guinea, a few degrees north of the equator and almost directly on the Greenwich meridian. Ghana borders Burkina Faso, Côte d'Ivoire and Togo. The surface area of Ghana is 238.573 square kilometres.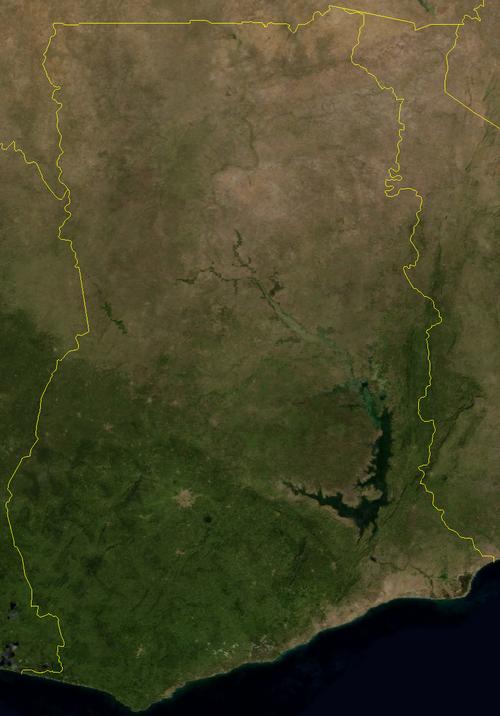 Ghana Satellite PhotoPhoto: Public domain
Landscape
Ghana has a wide variety of landscapes. The south is predominantly green and there are still stretches of rainforest to be found. Although much of that has had to make way for agriculture. To the north, the landscape becomes flatter, open and savannah-like. Everywhere along the coast you will find larger and smaller beaches, often bordered by palm trees.
The highest mountain is Mount Afadjato of 880 metres. In the east is a huge, elongated reservoir, Lake Volta. It has the shape of an inland delta. It is largely fed by the White Volta and Oti rivers, both branches of the Niger, and the Black Volta, which originates in the north of Burkina Faso; the water flows from the lake via the Akosombo Dam and the Volta River to the sea.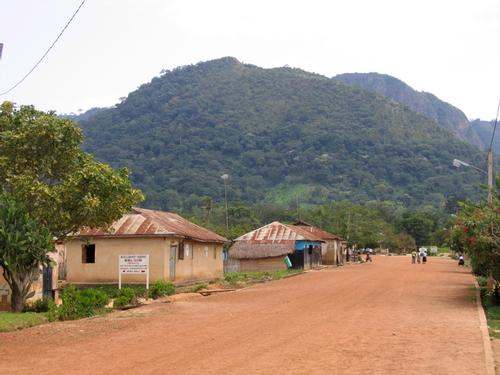 Mount Afadjato, GhanaPhoto: Krzysztof Gajos in the public domain

Climate and Weather
The climate of Ghana is tropical. Warm and relatively dry on the southeast coast, hot and humid in the southwest and hot and dry in the north. The rainy season lasts from June to September. In practice, this means that every one or two days there is a heavy downpour, which usually lasts for about two hours.
Plants and Animals
Plants
Ghana has innumerable plant species, and the plant world underpins a flourishing indigenous herbal medicine. Common species are the abachi, acacia, baobab, cocoa, coconut palm, mahogany, oda and the lontar palm.
Animals
Throughout Ghana, a number of nature reserves can be found, of which Mole National Parc is the best known and most accessible. Big game can be found in abundance. Well-known species are the monkey, antelope, buffalo, lion, hippo, elephant and panther.
---
Sources
Elmar Landeninformatie

CIA - World Factbook

BBC - Country Profiles
Last updated October 2023
Copyright: Team
The World of Info