FUERTEVENTURA
Corralejo

Corralejo
With its unique long sandy beaches, Corralejo is Fuerteventura's main resort. It is a lively place where tourists of all kinds come together. Sun worshippers, nature lovers and surfers all enjoy spending their holidays here. This mix creates a lively, dynamic atmosphere, which is also reflected in the nightlife. Corralejo offers everything you can expect from a holiday in the Canary Island.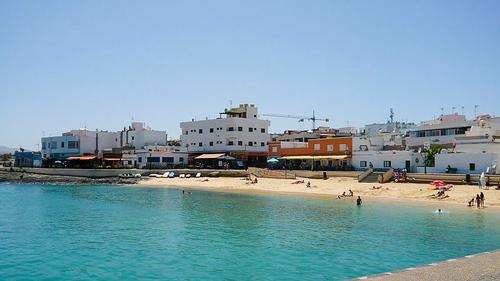 CorralejoPhoto: Andy Mitchell CC 2.0 Generic no changes made
Location
Corralejo is located at the northern end of Fuertaventura and is therefore not far from the equally beautiful Lanzarote. Even further north is the volcanic island of Isla de Lobos. Hardly any people live here and you can find a volcano of about 120 metres high. Corralejo is located in the municipality of Oliva and Fuertaventura Airport is 35 kilometres away. The capital Puerto del Rosario is 30 kilometres away.
Weather
Corralejo's desert-like appearance suggests that the climate here is just like in the Sahara. However, this is not the case. As in the desert, it is hot and dry, but not as harsh and unpleasant as it can be in the Sahara. It rarely gets too hot and certainly not too cold. The maximum temperature almost never drops below 15 degrees, which makes Corralejo a great winter sun destination. Moreover, the northern trade wind that comes from the north ensures ideal conditions for both surfers and kite surfers. During your holiday on Fuertaventura, great weather is in any case a guarantee.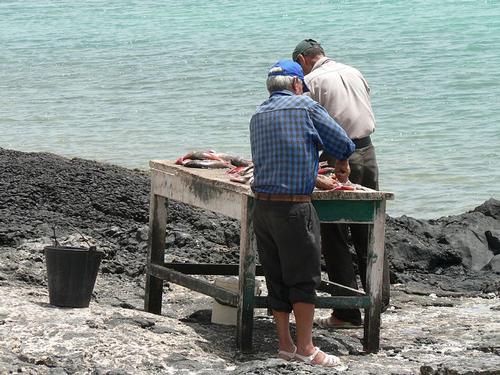 Corralejo FishermenPhoto: Andy Mitchell CC 2.0 Generic no changes made
History
Corralejo has always been a small, idyllic fishing village. There are not many historical facts to report, but the village has the charming stories and history that often characterise traditional fishing villages. However, with the advent of tourism in the Canary Islands in the 1980s, it soon became clear that the village's fantastic potential could not be ignored and it has developed into the bustling modern resort that it is today.
Sights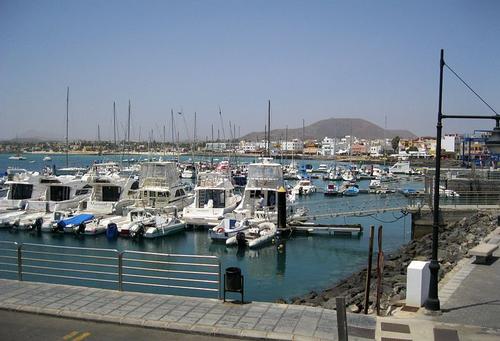 Harbour of CorralejoPhoto: Jensibua CC 3.0 Unported no changes made
Nevertheless, Corralejo has retained some of its old charm. The old harbour is still the centre of attention. This harbour is still used by the traditional fishermen as their mooring place. If these fishermen are not out sailing for a day, you can see them fishing from the quay. An idyllic sight. If you walk a little further, you will come to the sheltered town beach, where you can enjoy the sea out of the wind. There are no historic buildings in the village, but the surrounding nature is all the more worthwhile.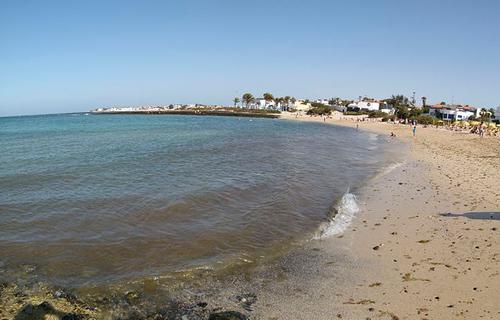 Corralejo BeachPhoto: Norbert Nagel CC 3.0 Unported no changes made
The immediate surroundings of Corralejo consist of vast sand dunes and endless beaches. Together, these are protected nature reserve, which indicates its uniqueness. Not only the beaches are beautiful, but also the picturesque Isla de Lobos is definitely worth a visit. In addition, the Baku Water Park was recently opened, where children can have a great time.
Tips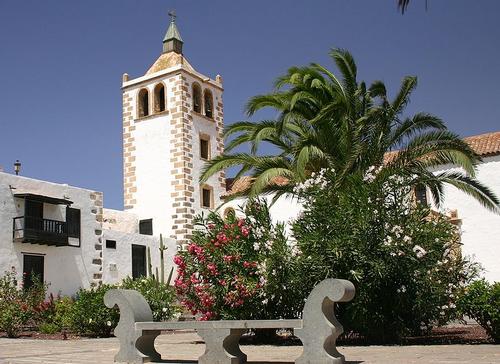 Betancuria FuerteventuraPhoto: Bilal11 CC 3.0 Unported no changes made
It is also worthwhile to check out the surroundings of Corralejo. Besides nature, there are also cultural treasures to be found on the island. In Betancuria, you will find beautiful historical buildings and various museums. In the rustic El Cottilo or in the dunes of the Costa Calma you can experience total peace and quiet and from the Pico de la Zarza you have a magnificent view.